P O L A R T A N Z
Currently one of the most successful Trakehners
in eventing on international level
"Polartanz has such a great potential,
which needs to be encouraged"
(Felix Etzel – Rider)
<![if !word & !ppt & !excel & !vml]>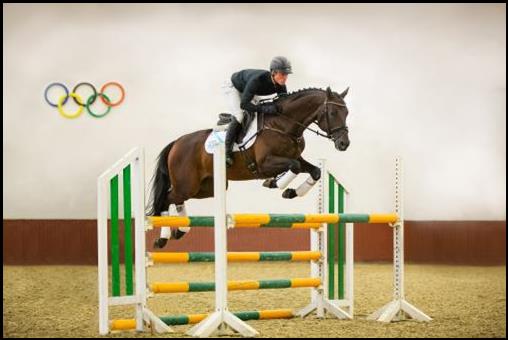 <![endif]>
By KONVOI – HERALDIK xx - HABICHT
born 2011      bay      16,1 hh/165cm       WFFS N/N      LFS N/N
Currently licensed and approved for the breeding areas:
Trakehner Verband
Deutsches Sportpferd (DSP)
ZSAA
Highly successful in eventing competitions up until CCI***L
Placings 2019
<![if !word & !ppt & !excel & !vml]>
<![endif]>
A stallion with an exceptional Eventing Pedigree:
English thoroughbred through the history making sire
Heraldik xx
Worldcup and Nation Prizes in Showjumping
Offspring in Dressage, Showjumping at highest level
and in Eventing up until the Olympic Games
French influence of bloodline (AA) through
Konvoi v.Kallistos x
licensed in hurdel races and offspring in international
Showjumping and Eventing up until Olympic Games
Well-established Trakehner Blood Ratio through
Habicht v. Burnus AAH (Eventing up to highest level)
and Elfenglanz (Awardwinning up to Level S)
The famous mare families of
Polarfahrt and Kokette
from the Main Stud "Trakehnen"
built a success promising Foundation
P O L A R T A N Z
!!!    FROZEN  SEMEN  WORLDWIDE  !!!
Highest quality for best success!
Contact:
Ulrike Malter & Guido Pabst
Berggasse 12,      D - 96277 Beikheim
Guido Pabst  +49 175/7706284      Ulrike Malter  +49 151/56097845
ulrike.malter@gut-schmarsow.de
<![if !word & !ppt & !excel & !vml]>
<![endif]>

Intelligence and best Interior

are combined with sportive key attributes:

Highest Power of Concentration,

rideability and rythm in the Dressage!

Best constitution and courage in cross country!

Excellent overview and tremendous potential

in the show jumping course!

P O L A R T A N Z   -   THE STORY

and his valueable mother "Polarfreude" from Heraldik xx

are born at our familybreeding facility.

Only a few days old the foal already won us over with highly rythmic,

elastic and impulsive movements, topped with his unique charm!

The outstanding young stallion started his career at stud Majenfelderhof. Under saddle we realized the quality of this young growing horse again! In 2017 Polartanz changed to training with Felix Etzel. The beginning of a promising, common carrer! Felix is member of the Perspective Group of Eventing at the DOKR in Warendorf. They started successful in competitions in showjumping and eventing for young horses.

In 2018/19 Felix and Polartanz have delivered an excellent performance

in competitions up until CCI***L!

Polartanz remains in training with Felix and

will be presented in international competitions.

We love him!

P O L A R T A N Z   -   VIDEOS

https://www.youtube.com/watch?v=D4Hd1ec7P8M

https://www.youtube.com/watch?v=nv9B8r5hF3U

https://www.youtube.com/watch?v=DBZCbjeIz4M

https://www.youtube.com/watch?v=xyGKupVpBg8

<![if !vml]>